Interdisciplinary Projects with Industry
L@bISEN – Yncréa Ouest has established a number of transversal projects with industry which catalyse interdisciplinary research initiatives between the various specialist research areas and lab teams in the domains of e-health, artificial intelligence, marine technologies, energy, computer vision and e-learning. As can be seen in the diagram below, most of these projects are of shared interest to the three key research orientations and to several research teams.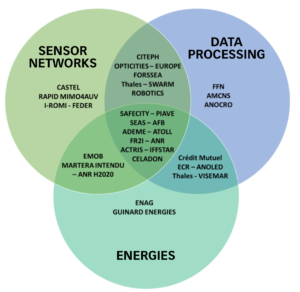 Distribution of projects with industry at L@bISEN – Yncréa Ouest
A brief description of each project is provided below:
AMCNS: Tool for measuring sensory nerve cell growth in culture
Given the widespread public use of beauty and hygiene products, being able to study effectively the impact of such products on the skin is a key challenge for pharmaceutical and cosmetic companies.
ANOCRO: Detection of chromosomal anomalies
The development of tools to detect genetic abnormalities is essential for the efficient diagnosis and management of pathologies.
Collaboration with Erasmus MC teaching hospital in Rotterdam (The Netherlands)
Various projects in collaboration with Erasmus MC teaching hospital in Rotterdam are underway on aspects of medical image registration in two main areas: cystic fibrosis (with the pneumology department) and jawbone cancer (with the maxillofacial surgery department). Two publications are currently being prepared on these subjects.
CASTEL
This research and development project consists in assisting the firm Castel in its digital transformation toward smart manufacturing. The ultimate aim is to digitalize the production process in order to improve the company's productivity.
PIAVE SAFECITY
The main aim of the SafeCity project is to develop consolidated safety and security solutions using collaborative management systems to handle data and video- surveillance information for the purposes of road safety, building security, connected law enforcement patrol vehicles, and also for command posts and communication platforms.
RAPID MIMO4AUV
MIMO4AUV is a collaborative project between the ISEN Yncréa Ouest lab in Brest and the NEOTEK RTSYS company based in the city of Lorient. The project is conducted within the framework of the 'SME support regime for Dual Innovation', or RAPID (Régime d'Appui aux PME pour l'Innovation Duale) which is financed by the French Defence Procurement Agency (DGA).
CITEPH – 'Electric Sense'
The CITEPH, or 'ELECTRIC SENSE' project was developed by the incubator program at the IMT Atlantique Engineering School in Nantes, using technology designed by IMT Atlantique. The role of Yncréa Ouest is to provide spatialization algorithms which, like the 'park assist' function in a car, provide distance and positioning information in relation to any obstacles encountered.
AFB SEAS
This project is run in collaboration with the French Agency for Biodiversity (Agence Française pour la Biodiversité). The SEAS acronym relates to the project title in French: 'Système d'Étude Autonome et de Surveillance de la faune patrimoniale en milieu protégé', which means 'Autonomous Study and Surveillance System for natural heritage fauna in protected environments'. The aim of the project is to develop an automated surveillance system using connected and autonomous cameras in order to observe seals on an islet in the Molène archipelago.
ENAG
ENAG is specialized in energy conversion systems for constrained environments. For this company, L@bISEN – Yncréa Ouest has created an electronic datalogging demonstrator for use in embedded battery packs on military surface vessels. This system acquires time-dated voltage, current and temperature data which are sampled every 5 minutes over 6 week periods.
MARTERA INTENDU
The European project, INTENDU (Integrated Technologies Longterm Deployment of Robotic Underwater platforms) is a response to the MarTERA / ERA-NET Cofund call for projects as part of the Horizon 2020 Research and Innovation program.
GUINARD ENERGIES 
This is an industrial contract between Yncréa Ouest and the company Guinard Energies. The aim is to study and simulate the power electronics control/command system for the P154 tidal turbine which has a capacity of 20kW.
THE EMOB PROJECT
The Saint-Brieuc 'Zoopole' Science Park has asked ISEN Yncréa Ouest to provide expertise and to conduct a techno-economic study for a project aimed at developing a mobile energy supply system for a region in Cameroon.
ADEME ATOLL
Vision and robotics are two different, but complementary fields. Inherited from nature, vision, or perception of the environment, has become an essential feature of robotics. The importance of vision is evident in many applications, not least in AUVs (Autonomous Underwater Vehicles) and the autonomous navigation of robots in underwater environments.
CRÉDIT MUTUEL BANK
Within the context of the Crédit Mutuel research chair in IoT, the bank wishes to develop a series of prototypes to prove the possibility of embedding artificial intelligence algorithms in low cost cameras (worth around 200 euros).
ECR Environnement
As part of a research chair, the company ECR Environnement has created a Research and Development team in collaboration with ISEN Yncréa Ouest. Their aim is to work on two major topics: the implementation of a smart system designed to monitor geotechnical and topographic correlations and graphic reengineering.
The IDEFI FR2I PROJECT 
FR2I, or the 'Networked training initiative for international engineers', has been developed in partnership with Yncréa Méditerranée, the association 'Toulon Var Technologies Innovation', the company 'Meta Projets Managements', the Yncréa Hauts-de-France Group and Yncréa Morocco. The program was selected as one of the winners of an international call for projects.
FR2I aims to create MOOC (Massive Open Online Courses) and SPOC (Small Private Online Courses). The project also focuses on the developments of technical infrastructures: firstly, to be able to teach modules synchronously and asynchronously (remote and in-person instruction, or blended courses), and secondly, to implement digital platforms to host the various modules.